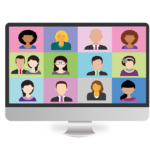 Meetings are held every other Thursday.
Our next
GLUG Meeting
will take place at
a virtual meeting place
, located at World Wide Web on 29 Sep 2022 at 5:30 pm - 7:00 pm.
—
We move from time to time due to availability and suitability of public spaces.
Follow the RSS feed or subscribe via iCal for the all events calendar.
And consider joining the mailing list or chat room for up to date discussion or to suggest your favorite locale.